Course Creator Website Canva Template
Are you ready to promote your new course or digital product but don't have the budget or time to create a custom website? 
Well, you're in luck! With this Course Creator Website Canva Template, you can create a beautiful, professional-looking website in just minutes! It's strategically designed, easy to edit, and hosted for free on Canva.
✨ A beautifully designed Homepage with Menu links, eye-catching headline and CTA, your offers, courses, testimonials, about me, freebies, footer links, and plus it includes an Instagram, YES!
✨ A professionally designed and conversion-focused Sales Page. This Sales Page is strategically designed to show off your product with a compelling introduction, problem/solution section, CTAs, testimonials, bonuses section, and much more!
✨ Pssst! Got something to tell you…It comes with website copy prompts to help you write your own high-converting sales page.
This template is perfect for anyone who wants to sell their online course or digital product. Whether you're a course creator, coach, social media manager, or service provider, this template will work for you. 
Included in your Course Creator Website Canva Template:
✔ A HOMEPAGE Website Canva Templates (9 customizable sections).
✔ A SALES PAGE Website Canva Templates (17 customizable sections).
✔ All the templates are fully customizable in Canva; change fonts, colors, add your own content, swap photos and add your links.
✔ A detailed step-by-step guide, on how to use Canva, access your templates, customize them to your brand and publish your new website!
✔ Instant access, you will be granted instant access to a PDF with a link to your templates. So you can start designing right away!
✔  Plus! Exclusive, limited-time Bonuses!
When you grab these Canva templates, they're yours forever. That means you can reuse your Canva templates for as long as you like.
Purchase a template(s), open the PDF you'll receive upon purchase, you can access the templates by clicking the link provided.
Open your template in Canva, easily customize it for your own brand's colors, fonts, images, and text.
Export your template, post it to social media. Re-use them endlessly to create as many graphics as you had like.
To sweeten the deal, I'm throwing in some really great BONUSES with your purchase to help you get started.
OVER $350 WORTH OF BONUSES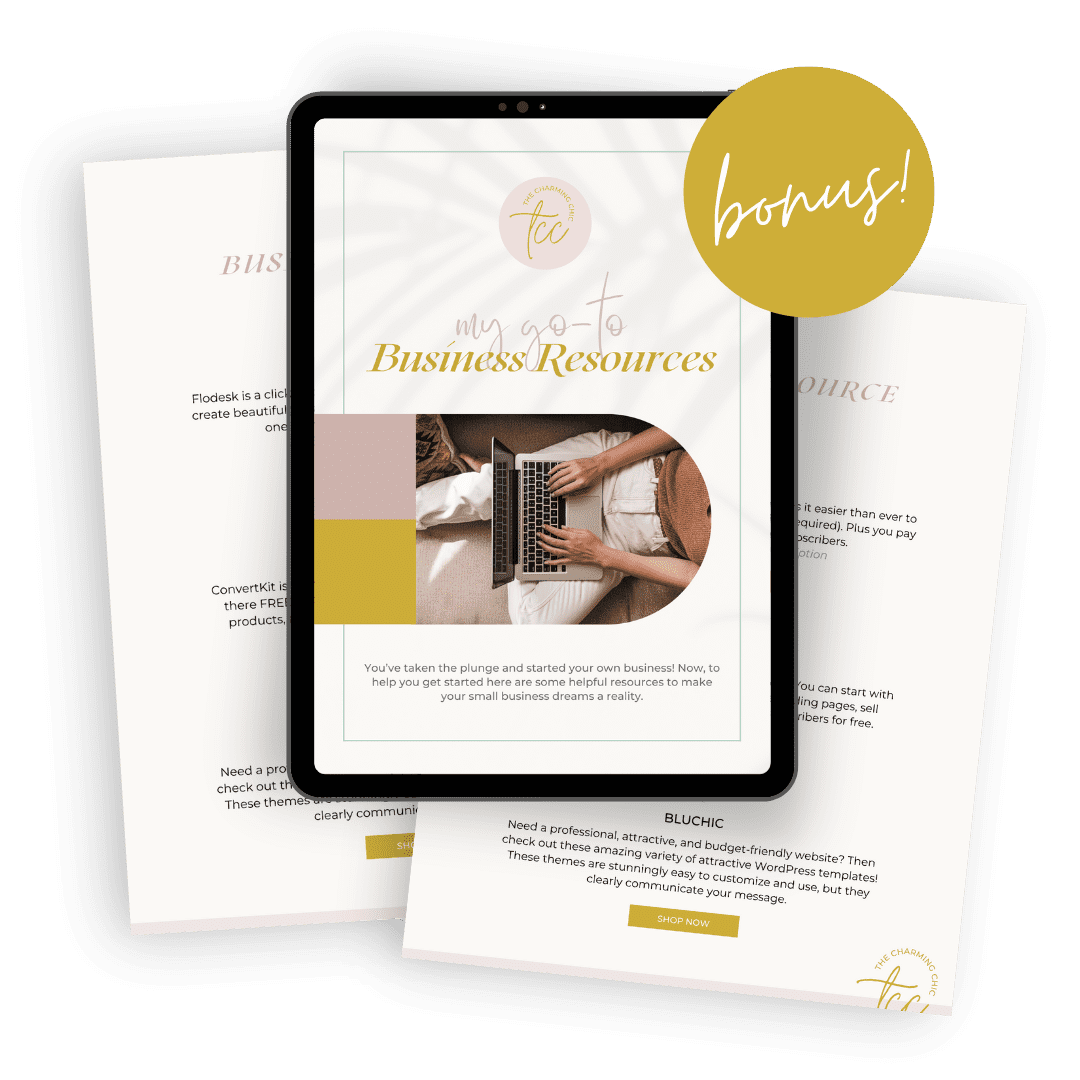 Business Resources and Tools
I've made a list of my favorite business tools and resources just for you! These tools and resources will help you to run your online business efficiently. There's no risk in giving them a try!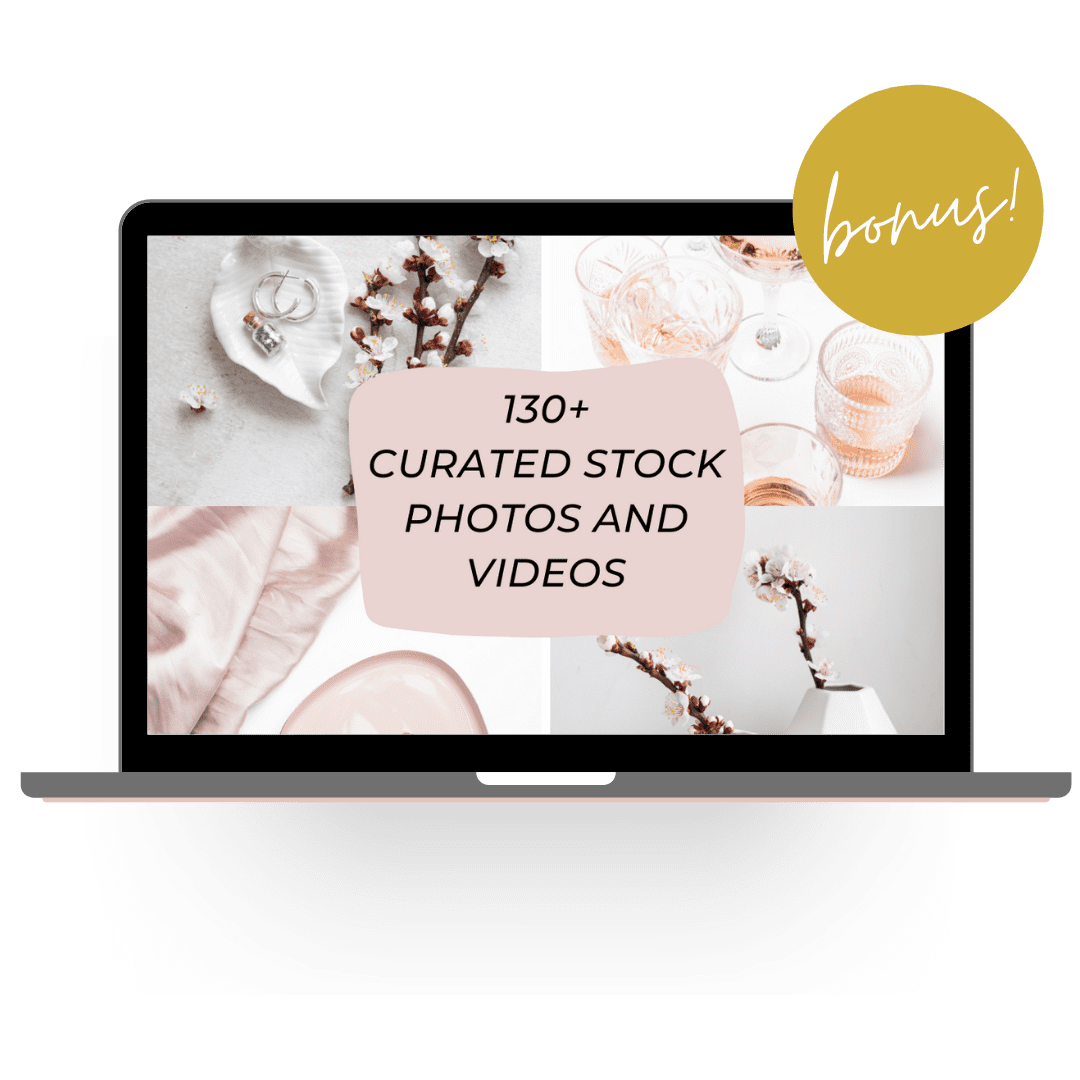 130+ Curated Stock Photos and Videos
   A collection 130+ Curated Stock Photos and Videos absolutely FREE. Can't find the right photo to help spruce up your brand? We've found 130+ of the best free stock photos  and video for female entrepreneurs.
Save time, money, and stress with customizable, designed-to-convert templates that are already done for you.
Fonts, colors, layouts, photos, and everything in between can be easily customized in Canva to match your brand's unique look and feel! So, are you ready to elevate your social presence?
YOU HAVE QUESTIONS? I HAVE ANSWERS!​
DO I NEED TO HAVE A CANVA PRO ACCOUNT?
No, you don't need to have a Canva Pro account, you can use the FREE version of Canva.
HOW DO I ACCESS THE TEMPLATES AFTER PURCHASE?
After your purchase is completed, You'll get instant access to a PDF document that includes direct links to your Canva templates! Simply click the links included in your PDF, click the "Use Template" button, and start customizing!
Do I get to use the stock photos and fonts within the templates?
Yes, all templates include stock photos and fonts.
The stock photos used in the templates are from Canva photo library and are included in the purchase.
Please note some photos and "background remover" features are only available in Canva Pro. However, you can easily change the photos with your own OR you can upgrade to Canva Pro.
All the fonts used in the templates are available in the free version of Canva.
What if i'm new to canva or don't know how to use it?
Don't worry – if you have no experience using Canva, I'll guide you through it. All templates come with a detailed tutorial on how to use and customize them to your brand.
Can I customize the templates to match my branding?
Yes! You can easily customize the templates. All you have to do is change your brand colors and fonts, add in your own text and content, swap the image with your own.
Can I use the templates for my clients work?
All the templates are for personal use only. If you are a VA, Social media manager, etc., or want to use these templates for your client, please ask your client to buy the template and give you access to the templates as a team member in their Canva account.
What is your refund policy?
This is a digital product, and you will get immediate access to all the templates. Therefore they cannot be returned, refunded, or exchanged. While I want you to be happy with your purchase, if you have any issues, please contact me.
This is a digital product. No psychical product will be shipped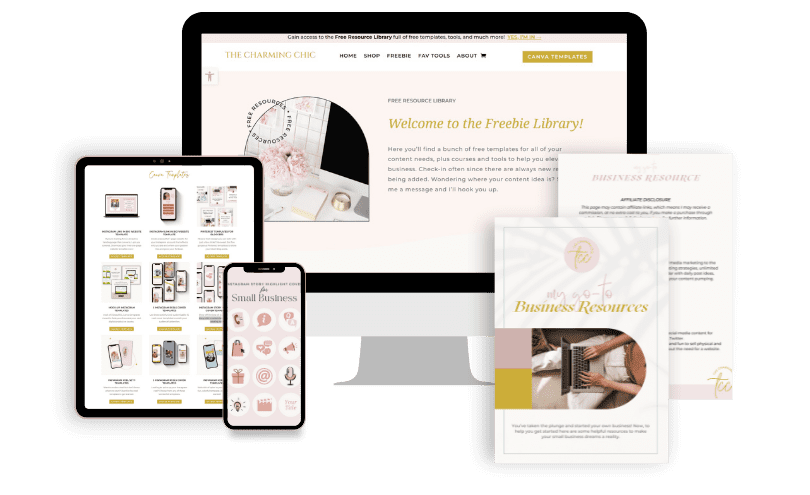 Gain access to the Resource Library full of free templates, tools, and much more! Oh, and it's free!